Overview
In tandem mass spectrometry (LC-MS/MS), a peptide is fragmented along its peptide backbone and the resulting fragment ions are measured to produce the MS/MS spectrum. Depending on the fragmentation method used, different fragment ion types can be produced. De novo peptide sequencing derives an amino acid sequence from a mass spectrum without the need of a sequence database. It is in contrast to another popular peptide identification approach – "database searching", which searches in a given database to find a sequence that best corresponds to the spectrum of interest. However, when a reference database is not available or information about the sample is not known, de novo peptide sequencing is the only choice for analyzing the dataset. This makes PEAKS the preferred method for identifying novel peptides and proteins from unsequenced organisms.
Highlights
Automated de novo peptide sequencing of data-dependent acquiestion (DDA) and data-independent acqusion (DIA) datasets
Accuracy at amino acid and peptide level

AI-based DeepNovo Integration
Combines complementary fragmentations to increase de novo sequencing accuracy
Supports CID, HCD, ETD/ECD, EThcD, fragmentation methods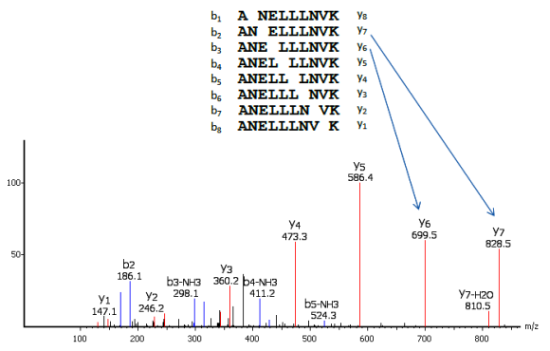 PEAKS and PEAKS AB use a comprehensive scoring system to provide accurate de novo sequencing results. An important feature in these platforms is the ability to assess the Local Confidence Score – the likelihood of each amino acid assignment in a resultant peptide. The local confidence score extends the accuracy to the peptide level with the average local confidence (ALC) and total local confidence (TLC) scores. Below, the string of amino acids, TLCDDEFKADEK is a confident sequence tag since the LC of each amino acids is greater than the LC threshold. The amino acids, NP, at the peptide N-terminus however, have a lower LC score and do not pass the score threshold.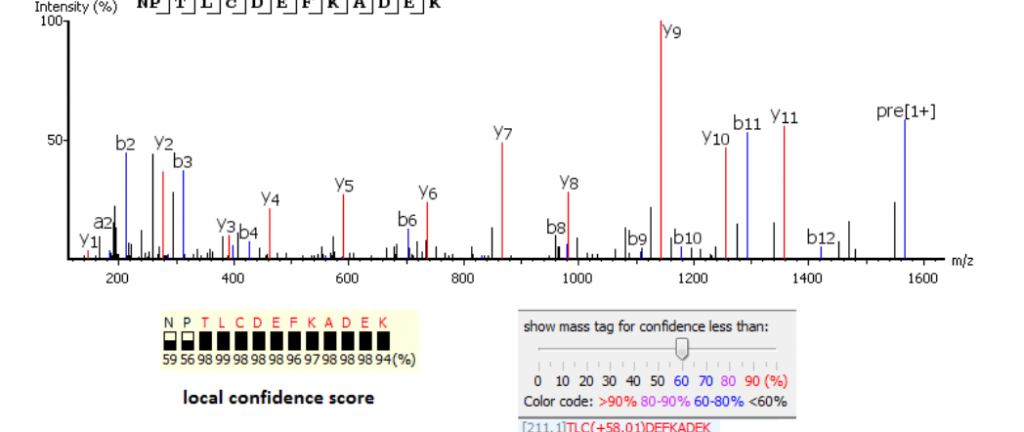 Note: Color scale differs in PEAKS vs. PEAKS AB.
With our latest software release PEAKS X+, we have introduced DeepNovo for de novo sequencing using DDA data. DeepNovo combines recent advances in convolutional neural networks and recurrent neural networks to learn features of tandem mass spectra, fragment ions, and sequence patterns of peptides. This helps us to better understand the features of fragment ions and peptide sequences. Therefore, PEAKS X+ consistently identifies more accurate amino acid residues and peptide sequences with better confidence than other software.
With the growing use of DIA as a powerful alternative compared to the traditional DDA, PEAKS provides the most complete software to analyze the data. With DeepNovo-DIA, the acquired signals are analyzed directly to determine the peptide sequence and allow for the discovery beyond the spectral library. PEAKS DeepNovo- DIA is able to pick up the correct signal for de novo sequencing amid a large amount of noise in a DIA spectrum, as mentioned above as a disadvantage for DIA analysis. Therefore, this will help discover novel peptides and allow for a more complete profiling of biological samples.