Join us for a Lunch & Learn at Boston University, for a free workshop on the brand NEW PEAKS GlycanFinder on Friday, August 19th from 10:00 am to 2:00 pm. The PEAKS Team will introduce the new GlycanFinder module for in-depth Glycoproteomic analysis!
When:
Friday, August 19th
10:00 am – 2:00 pm EDT
Where:
Boston University School of Medicine
Department of Biochemistry
Conte Medical Research Center, Rm. K103
72 E Concord St
Boston, MA 02118, USA
Learn how you can add this tool to your PEAKS proteomics analysis and profile N- and O-link glycans. As a comprehensive data analysis tool, PEAKS GlycanFinder provides a highly sensitive and accurate glycoproteomics software solution to advance your understanding of the glycoproteome. As an optional add-on module, PEAKS GlycanFinder enables scientists to determine glycan site localisation and glycan structures.
Highlights:
Comprehensive understanding of glycosylation and glycoproteins:

identify glycan sites and structures,
glycan and glycopeptide quantification,
de novo sequencing.

GlycanFinder embraces the next generation PEAKS Studio GUI to fully investigate glycoproteomics analyses.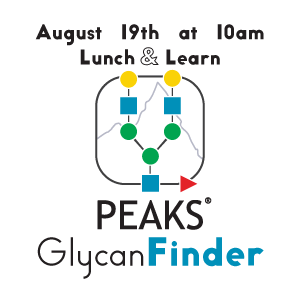 Registration Form
Registration is now closed.