Highlights
High-throughput, parallel processing to support very large-scale projects

Dual interfaces to provide visualization and automation

Administrative control and multi-user support

Establish standardized workflows, search parameters, databases for routine analyses

Easily compare between samples using statistics table and multi-sample protein coverage view
Overview
Use PEAKS Online X to take advantage of powerful, shared computing resources to perform LC-MS/MS protein and peptide identification and quantification analyses. With the ability to run on any all-in-one installation, multi-CPU cluster, or cloud server, the restructured software platform allows large datasets to be processed efficiently by multiple users at the same time.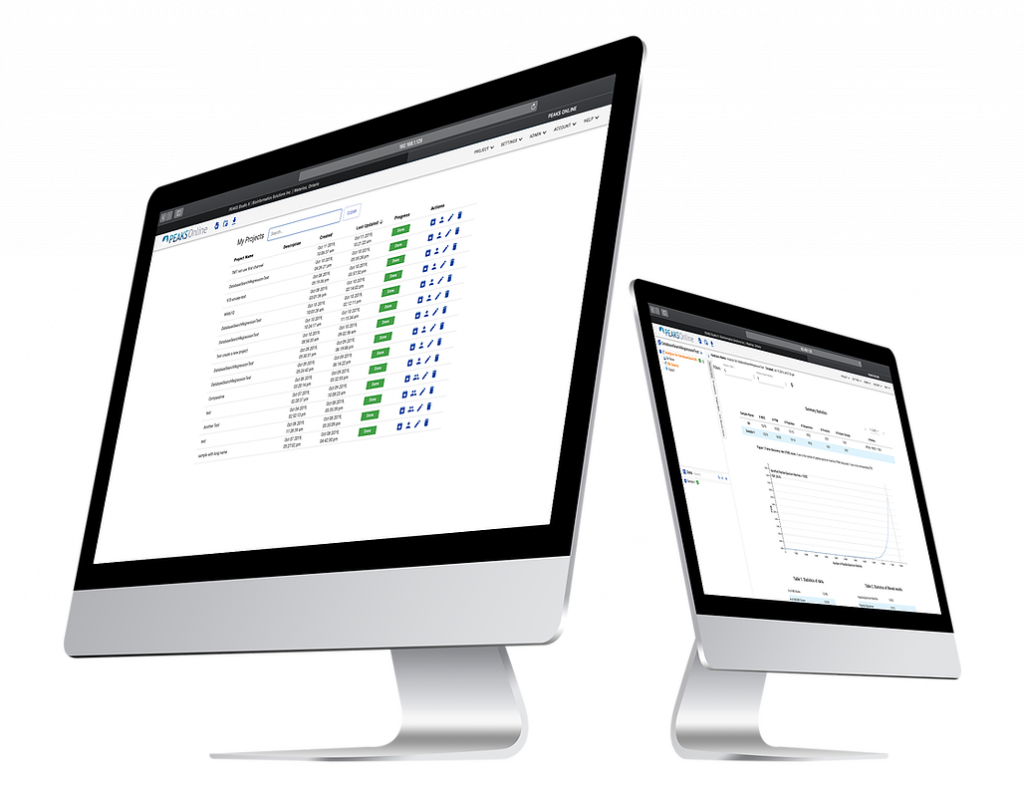 PEAKS Online, means high-throughput proteomics data analysis for multiple users on a network. Although the term 'Online' is often associated with the world wide web, PEAKS Online should not be confused with public access. Instead, PEAKS Online is a software package which includes a Server license and Client licenses and can be hosted on a public cloud such as AWS or Google Cloud or it can be deployed on a private network such as your own high-performance computing cluster. This cloud-based architecture allows PEAKS Online to be fully parallelized and scalable to your lab's needs and is ideal for processing large-scale projects.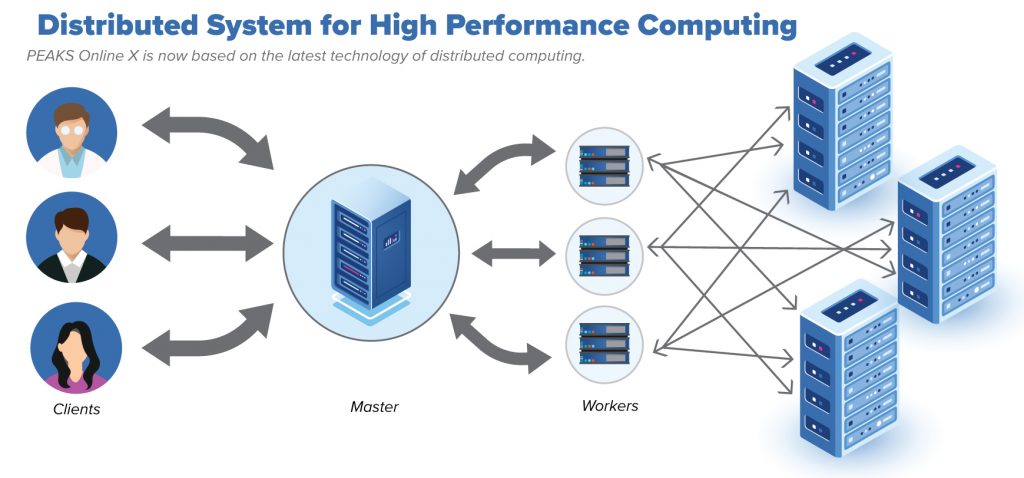 PEAKS Online provides users with the ability to utilize the established PEAKS workflows more efficiently and on a larger scale. The interactive tool used to send/retrieve data to/from the server is called PEAKS Client, and the results are presented in a similar manner as available in the PEAKS Studio desktop solution. Through the Web Client Interface or Client Command Line Interface (CLI), multiple users can also access the PEAKS Online server at the same time, supporting parallelism at the project and data level.
In PEAKS Online X dual interfaces are available to ensure easy integration into any proteomics workflow. The Web Client Interface allows users to setup and submit projects visually, as well as review and validate their results. The Client CLI on the other hand can be integrated into existing pipelines to continue automated data processing.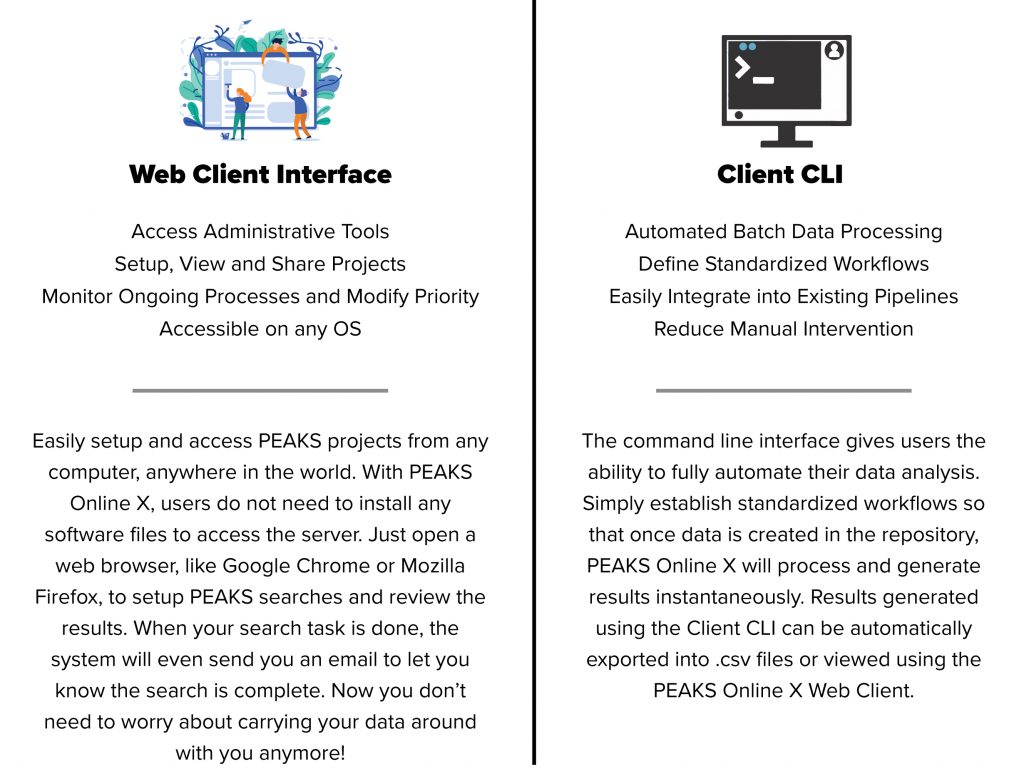 PEAKS Workflow
PEAKS Online X is designed to facilitate accurate and sensitive proteomic analysis using the PEAKS X software workflows, but with higher performance on a shared resource. Users will be able to perform De Novo Sequencing 

, PEAKS DB Database Search 

, PEAKS PTM 

, and SPIDER 

, as in PEAKS Studio package. Optional PEAKS Q

, and PEAKS IMS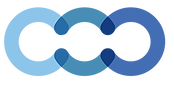 , modules can be enabled, for labelled and label free protein quantification and ion mobility data support.
Like PEAKS Studio, raw data from the mass spectrometer don't need to be converted prior to adding the data into the PEAKS Online X workflow. Data can be added to PEAKS Online projects from the local file system (through the browser or command line client) or remote data repositories (for where your data is not stored locally). This makes it easy to submit projects from any computer with access to your network, even if it does not have direct access to your data file storage.
Once data has been uploaded to the PEAKS Online X server, setup a workflow or select from a predefined list. With PEAKS Online, users can define standardized workflows to implement protocols in the lab for regulatory compliance and establish project specific approaches that can be used across the whole group.
If an analysis needs to be rerun with a new set of parameters, the whole workflow does not need to be reprocessed. Using the PEAKS technology, samples can be added/removed to a project and workflows can be modified "on the fly". PEAKS Online X will only process the information that needs to be updated while keeping any of the relevant information generated previously.
Once the desired results have been generated, users can export the results for each individual result node, like PEAKS Studio, or export all the results at once in a single step.