Overview
PEAKS software is a comprehensive, vendor-neutral, proteomics tool to provide systematic identification and quantification of peptides/proteins in a complex protein mixture using tandem mass spectrometry (LC-MS/MS). With PEAKS, directly load in the raw LC-MS/MS data from the mass spectrometer (no need to convert the data first), and select from PEAKS workflows to perform peptide and protein identification (such as de novo sequencing, database and spectral library searching), PTM and mutation characterization, and quantification. The interactive interface also provides a detailed, easy-to-use, user interface for data visualization, result validation and reporting.
Different from other software tools that rely solely on database searching, PEAKS uses a unique de novo-assisted database search algorithm to maximize the peptide identification efficiency for in-depth analyses of complex proteomes. By utilizing this approach, you can expect to improve the accuracy and sensitivity of a traditional database search, enhance unknown modification and variant discovery, and infer new ORFs from novel peptides. 
PEAKS software is available in a variety of deployment packages to accommodate various computing environments, such as desktop workstations, automated pipelines, internal servers and cloud environments. Given its dedication to yield sensitive results while maintaining high accuracy, there's a PEAKS product for every lab setup.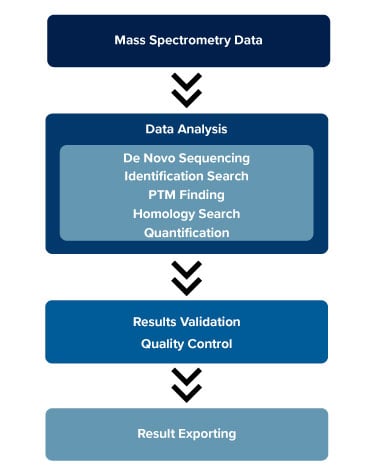 Selecting a Package
| Features | PEAKS Studio | PEAKS CMD | PEAKS Online |
| --- | --- | --- | --- |
| DATA TYPE | | | |
| CID/CAD/HCD/ETD/ECD/EThD | ✔ | ✔ | ✔ |
| Mixed (Alternate & Decision tree) | ✔ | ✔ | |
| DDA | ✔ | ✔ | ✔ |
| DIA | ✔ | ✔ | |
| IMS/MS | ✔ | ✔ | ✔ |
| WORKFLOWS/ALGORITHMS | | | |
| Manual De Novo | ✔ | ✔ | ✔ |
| Auto De Novo | ✔ | ✔ | ✔ |
| Database | ✔ | ✔ | ✔ |
| Spectral Library Search | ✔ | | |
| PEAKS PTM | ✔ | ✔ | ✔ |
| SPIDER | ✔ | ✔ | ✔ |
| inChorus | ✔ | | |
| Label-Free Quantification | ✔ | | ✔ |
| Label Quantification | ✔ | | ✔ (Reporter ion) |
| ORCHESTRATION & WORKFLOW MANAGEMENT | | | |
| Established standardized workflows/search parameters | ✔ (Parameters Only) | ✔ | ✔ |
| Role Based security for Functionality | | | ✔ |
| Supports automated workflow execution: it allows. for the execution of a multi-step data analysis protocol without user intervention between each step | | ✔ | ✔ |
| Manage Databases | ✔ | ✔ | ✔ |
| DATA REPORTING/EXPORTING | | | |
| Data can be exported to text files | ✔ | ✔ | ✔ |
| Generate Spectral Library | ✔ | | |
| Results can be viewed using a "viewers-only" application | ✔ | ✔ | ✔ |
| TECHNICAL REQUIREMENTS | | | |
| Multi-user Support | | | ✔ |
| Archiving & Restoring of Experiment Data | ✔ | ✔ | ✔ |
| Can be accessed from a Windows 7, 8.1, or 10 Client | ✔ | ✔ | ✔ |
| Support the execution of at least 2 concurrent data analysis workflows | | | ✔ |
| Can be deployed to a scalable cloud environment such as AWS | | | ✔ |
| High-throughput Processing | | | ✔ |
| Manage Databases | ✔ | ✔ | ✔ |