How do I load data from my Thermo instrument?
RAW data from Thermo Scientific mass spectrometers can be loaded into PEAKS provided that the Thermo MS File Reader package is installed on the same computer as PEAKS. During the installation of PEAKS, MSFileReader will be installed if you click the checkbox.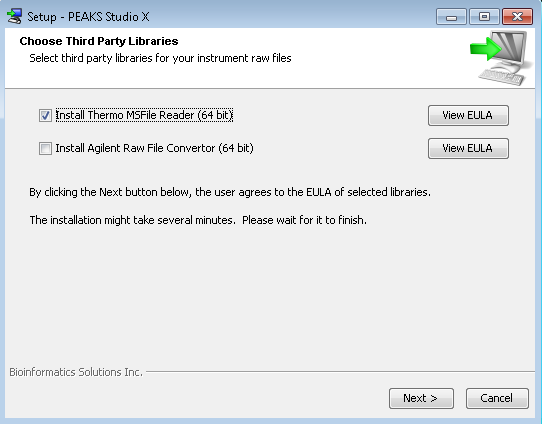 To install MSFileReader after installation, open PEAKS and follow the workflow below:
Navigate to Window -> Config Wizard
On the 'Select Instruments' page select the 'Thermo Scientific' check box
All other options can be ignored
Click next until you reach the 'Download Information' page
You will see MS File Reader begin downloading
Once this is complete click 'Install'
Continue to the next page and click finish
You are now ready to analyze data from RAW files
Once it is installed, PEAKS will be able to load .raw files automatically.
PEAKS also supports advanced peak detection (APD) present in the Thermo raw file. To read the APD mass instead of the original mass:
Navigate to Window -> Preferences
Go to the Thermo tab and select 'yes' to the option: Use instrument corrected monoisotopic m/z
Data loaded after making this selection will read the APD mass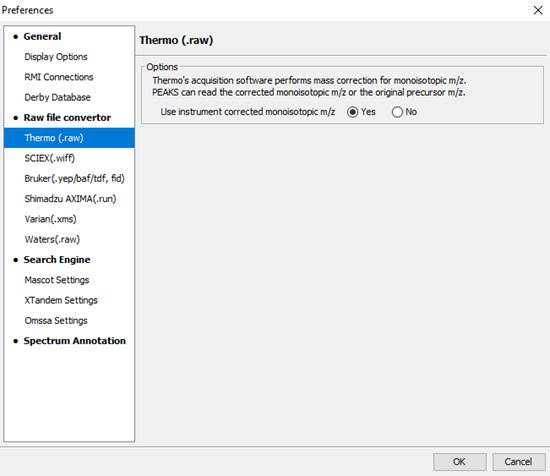 For instructions on how to load your data (after it has been extracted) into PEAKS click here or see the PEAKS User Manual.