PEAKS Resources for ASMS Reboot
Join Bioinformatics Solutions Inc. (BSI) during the "Rebooted" edition of the 68th ASMS Conference on Mass Spectrometry and Allied Topics.
Even when we cannot meet together physically, the annual ASMS meeting is a driving force that brings together researchers worldwide. Join the PEAKS team this ASMS for exciting virtual events, new PEAKS demos and fun contest giveaways.
Virtual Booth
Check out the PEAKS Virtual Booth on Friday, June 5th, 12:00 – 16:00 (CDT), to see how PEAKS can help your research. Visitors will be able to chat one-on-one with a member from the PEAKS team to learn more about the functions of PEAKS, see live demos and discuss how to integrate PEAKS in the lab.
To join, search for Bioinformatics Solutions from the Exhibitor menu in the ASMS planner. Click the first link from our exhibitor profile, "Virtual Booth", at any time between 12:00 – 16:00 CDT on Friday, June 5th, to open the Zoom Meeting Room. We look forward to seeing you then!
If there are any difficulties connecting to the Virtual Booth or you'd like to speak with someone from the PEAKS team outside of these hours, please email peaks@bioinfor.com.
Posters
ThP 286: Computationally instrument-resolution-independent de novo peptide sequencing for high resolution devices
Rui Qiao1, Hieu Tran2, Lei Xin2, Ming Li1, Ali Ghodsi1
1 University of Waterloo, Waterloo, ON; 2 Bioinformatics Solutions Inc., Waterloo, ON
PEAKS Users Appreciation Month
Instead of our traditional PEAKS User Meeting at ASMS, we are excited to share a number of exciting research from our PEAKS user community. Throughout the month of June, the PEAKS team will be hosting a PEAKS User Appreciation Month where we have the privilege of presenting the works from Dr. Cheryl Lichti, Dr. Evelyne Maes, Dr. Glendon Parker, Prof. Dr. Jonathan Sweedler, and Prof. Dr. Stefan Tenzer. For more details, click here.
As a thank you to our PEAKS community, we're giving you a chance to win a smart watch (your choice between Apple Watch Series 5 or Samsung Galaxy Active Watch 2), Apple AirPods Pro, or Samsung Galaxy Buds Pro, for joining any of our PEAKS virtual events throughout the month of June.
There are 2 ways to enter:
Receive an entry for each PEAKS virtual event attended.
Receive an entry by following us on social media and retweeting/sharing our posts with #PEAKSUserAppreciation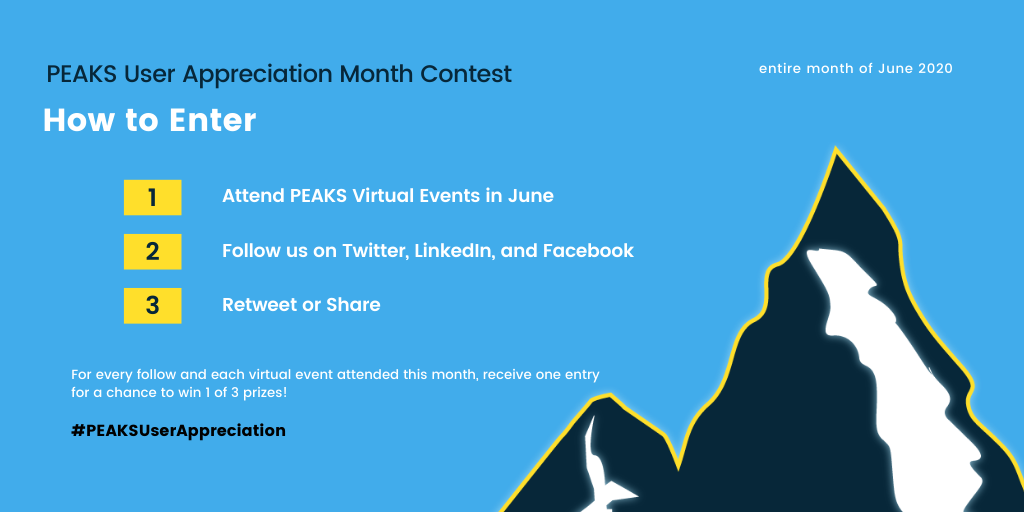 Brochures and Resources
To learn more about PEAKS and our extended products and services, visit the pages below: