PEAKS Laboratory Services
At Bioinformatics Solutions Inc. (BSI), we are proud to house state of the art mass spectrometry equipment including next generation Thermo Scientific Fusion Lumos Tribrid mass spectrometers and a Bruker timsTOF Pro powered by PASEF. In addition to antibody sequencing, we are in a unique position to offer complete proteomic services, including all upstream sample preparation, running of the samples and all downstream bioinformatics, making BSI a "one-stop-shop" for your proteomic needs.
Check out the sections below to learn more about our service offerings.
BSI has developed the proprietary de novo antibody protein sequencing technology, based on our PEAKS AB Software, to sequence antibodies. The Antibody Sequencing Service consists of full length heavy and light-chain antibody sequencing for all species, isotypes and allotypes. Numerous successful cases from our antibody protein sequencing service have confirmed 100% accuracy and 100% coverage. Satisfaction is guaranteed to meet our customers' needs.
Overview
FAST: 1-2 week turnaround time
Full and In-depth Sequence Coverage: Each amino acid is mapped to more than 20 unique peptides and 100% sequence coverage
Accuracy: Every amino acid in CDRs is confidently supported by pairs of intense fragment ions in at least 10 MS2 scans
Validation by Intact Mass: Intact mass measurements of heavy and light chains for double-confirmation of C-terminal lysine truncation and assembled de novo sequences
3-Tier Leu vs. Ile Differentiation: Differentiation of isoleucine and leucine using advanced EThcD MS method, enzyme digestion specificity and homology database analysis
Interactive Viewer: Investigate details of the report directly from the PEAKS AB software GUI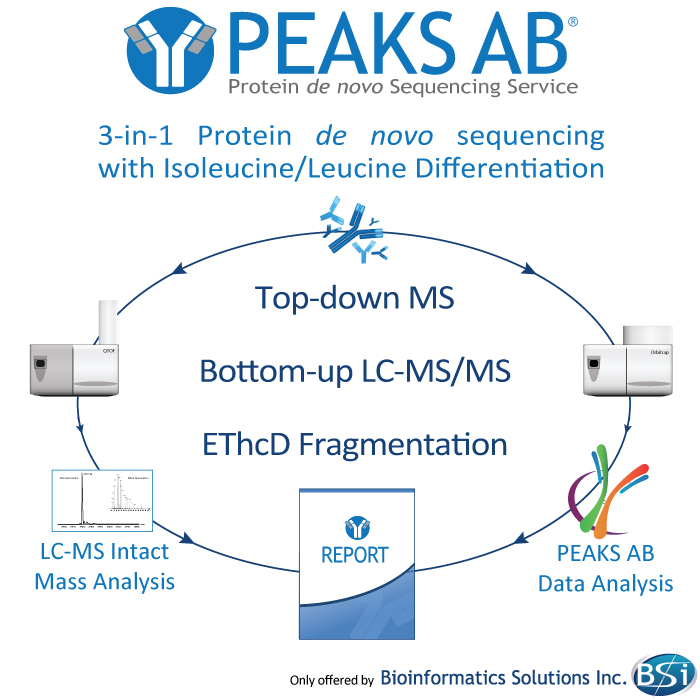 Bioinformatics Solutions Inc. offers cost-effective services for mass spectrometry (MS) based proteomics with fast turnaround times (1-3 weeks). Our MS services at BSI provide solutions to a broad range of proteomic studies and can accommodate various types of protein samples. This includes in-solution cell lysates, purified proteins or peptides, lyophilised samples, and gel bands. Our PEAKS interactive viewer allows the user to investigate their data and generates tables, chromatograms, Venn diagrams, heat maps, and various graphs to help interpret results.
As a Software company and a Contract Research Organisation, we are able to perform all sample preparation and perform complex mass spectrometry experiments in-house, and use our own software to analyse the data. Data analysis is included in any experiment.
Our services are individually customised and tailored to your needs. We will consult with you, develop a plan and perform all experiments in a professional, accurate, and timely manner.
Protein Identification (gel bands, in-solution, or lyophilised samples)
Protein Quantification
Intact Mass
Targeted Methods
PTM Profiling (Natural and Artificial)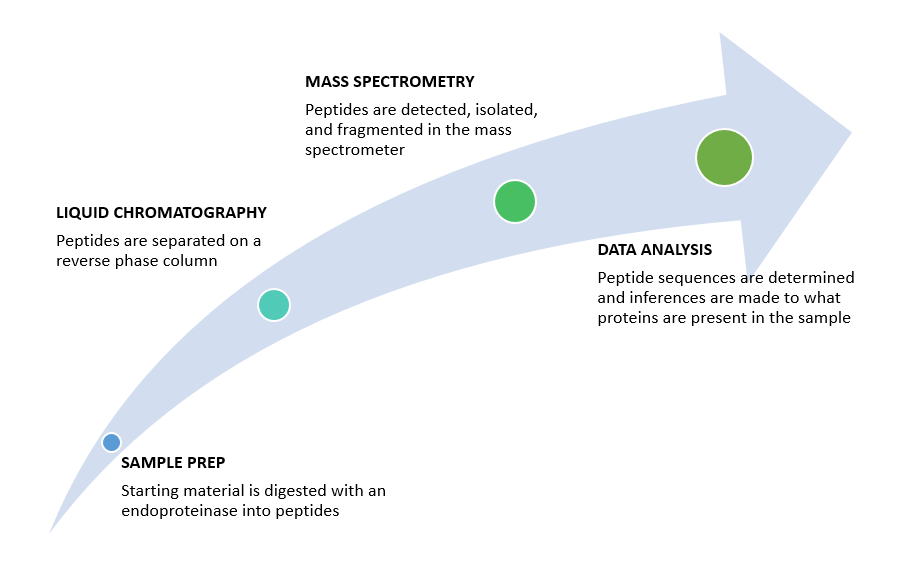 Additional Resources