PEAKS Studio Demo Project
To help users get quickly acquainted with PEAKS Studio we've created demo projects that highlight the workflows for LC-MS/MS data analysis from different MS vendors. These projects will serve as an introduction for new users and a refreshers for experienced use to understand how the software can be applied to various research topics and applications.
The completed projects can be accessed from the available Sharefile links below and downloaded to your PC. Once the zipped folder is extracted, you can open the project folder using a licensed or viewer version of PEAKS Studio. Additional information about each project is also available for download.
Demo Projects
Setting Up PEAKS Studio Viewer
PEAKS Studio offers a free of charge Viewer option to open any completed PEAKS Studio project, making the projects easy to share between colleagues and collaborators.
To setup a PEAKS Studio Viewer, simply download the PEAKS Studio installer. The latest version of PEAKS can be downloaded by clicking here. Once installed, the License Wizard will prompt when the software is first opened. Select the third option "Use PEAKS as a Viewer" to prompt the software to continue using the free viewer version.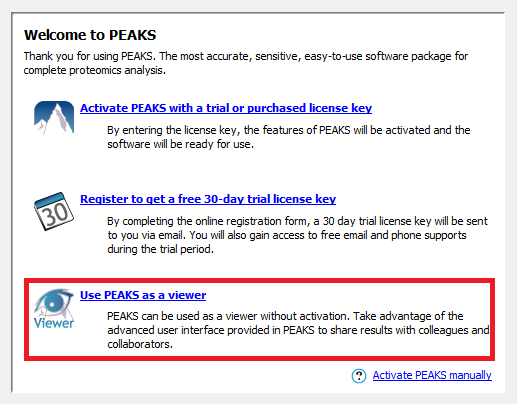 Opening a PEAKS Project
Once PEAKS Studio interface opens, you will be welcomed by the Start Page. The Start Page includes a list of recently opened PEAKS projects in addition to important news, upcoming events and BSI publications.
To open a PEAKS project, select the "Open" icon or go to File > Open Project from the menu bar, to prompt the File Explorer. Navigate to a PEAKS project folder, which is the immediate parent folder containing the log, runinfo and additional project information within. In the image below, the highlighted folder is the project folder itself, and the files within are the project content files. In PEAKS, users will want to select the folder itself.