Software Overview
PEAKS Studio performs LC-MS/MS data analysis and statistics according to the experimental design. Following the identification of peptides with MS/MS spectra, the resulting peptide sequences are used to determine the original protein components of the samples.
The Protein View presents protein profiling across complex biological samples. For each protein, the Sequence Coverage View displays a peptide map with spectrum annotation for validation. For more information about proteomics database searching, visit the PEAKS DB page.
Protein View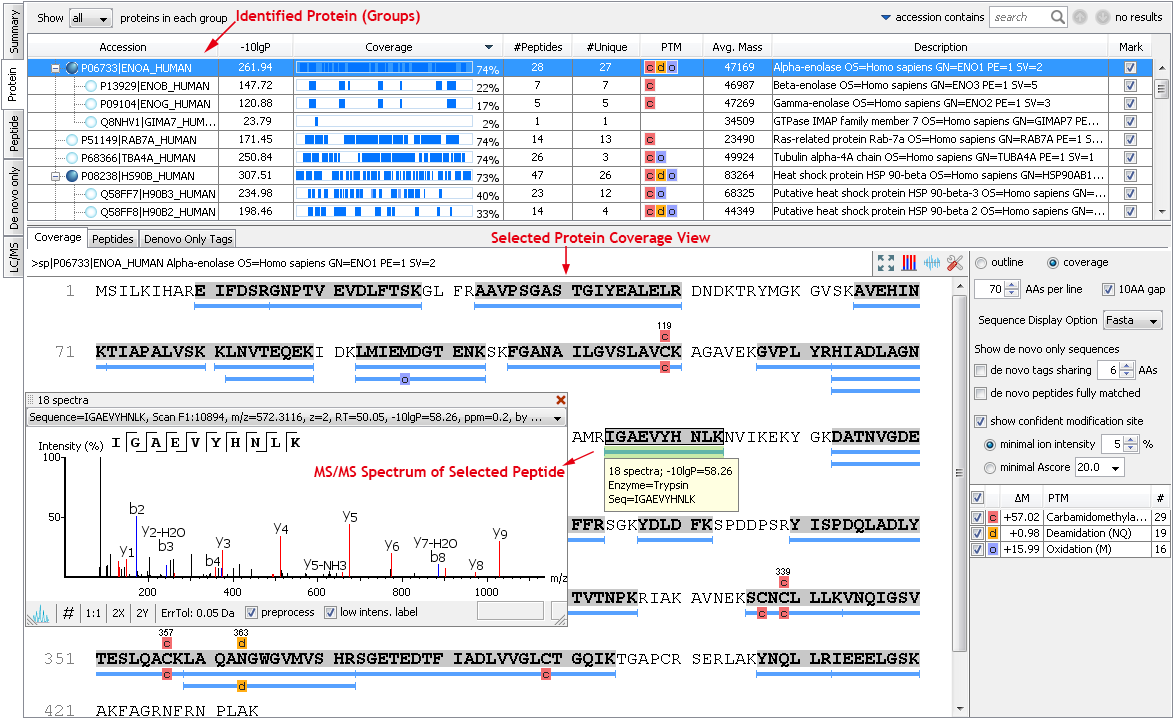 The Peptide View provides a list of identified peptides with the abundance from MS1. For each modified peptide, the confidence of modification site (Ascore) is associated. For more information about modified peptides and PTM analysis, visit the PEAKS PTM page.
Peptide View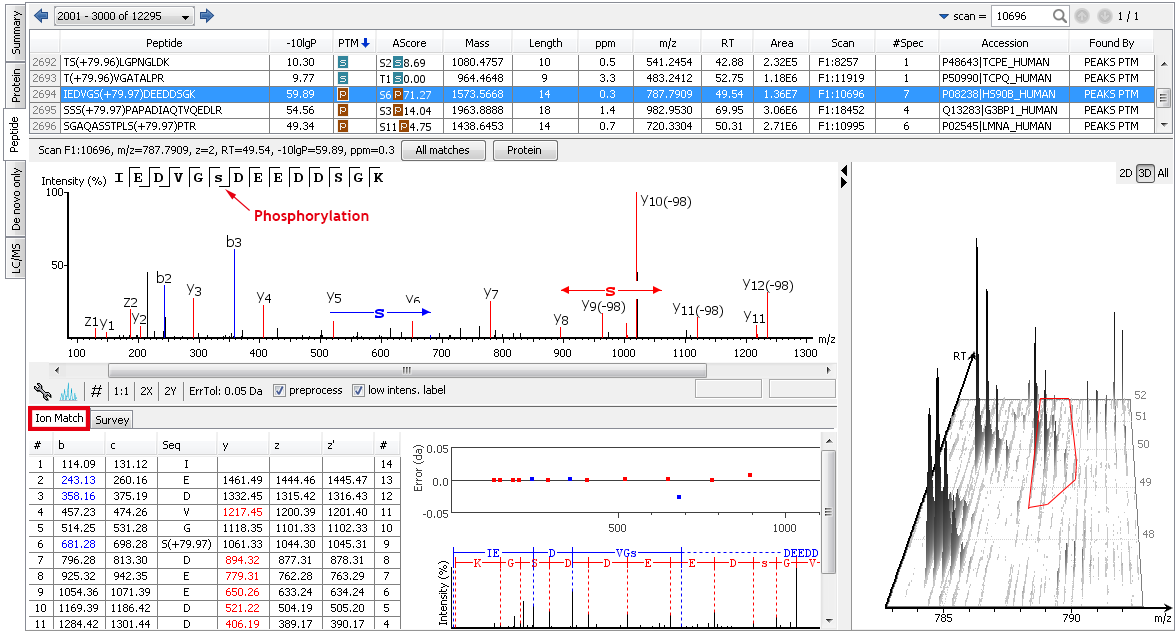 With the add-on module of PEAKS Q, PEAKS Studio also determines relative protein abundance changes across a set of samples simultaneously and without the requirement for prior knowledge of the proteins involved.
Quantification View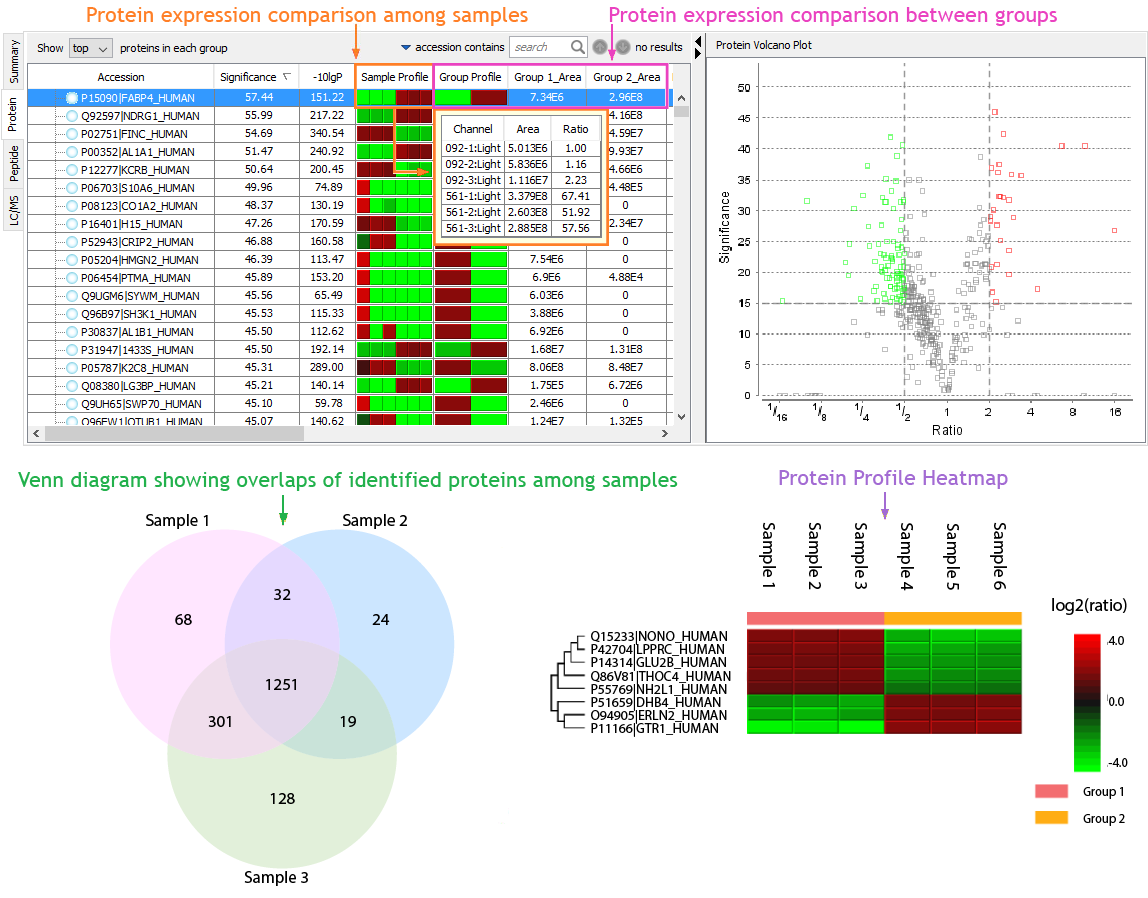 a. Integrating de novo and database search to maximize peptide identification
De novo sequence tags were used:
to improve database search sensitivity and accuracy
to enhance modification search with +500
to find sequence variants with homology search
to infer new ORFs from novel peptides
Learn more about the advantages de novo sequencing brings to your research.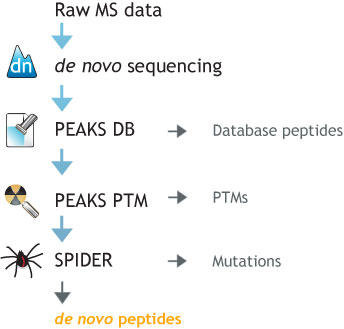 License Information
The PEAKS Studio license can be scaled to address your lab's requirements.
Desktop – 8 threads, capable of processing across up to 8 cores
Workstation – 16 threads, up to and across 16 cores
Supported Configurations
MS Windows 32 or 64 bit
Intel dual core processor
8GB RAM
More than 1GB of free disk space to install
Recommended Configuration
MS Windows 64 bit
Intel Core i7/Xeon Processor
16GB RAM or 2GB per core
Reference
Tran NH, Zhang X, Xin L, Shan B, Li M. De novo peptide sequencing by deep learning. Proceedings of the National Academy of Sciences of the United States of America. 114(29). 18/7/2017.
Tran NH, Rahman MZ, He L, Xin L, Shan B, Li M. Complete De Novo Assembly of Monoclonal Antibody Sequences Scientific Reports. 6(31730). 26/08/2016.
Zhang J, Xin L, Shan B, Chen W, Xie M, Yuen D, Zhang W, Zhang Z, Lajoie GA, Ma B. PEAKS DB: de novo sequencing assisted database search for sensitive and accurate peptide identification. Molecular & Cellular Proteomics. 11(4):1-8. 1/2/2012.