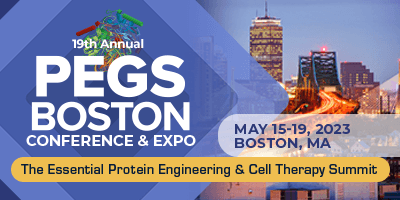 Visit Bioinformatics Solutions Inc (BSI) at booth #1319 during the 19th annual PEGS Boston Conference and Expo, May 15- 19, 2023 in Boston, Massachusetts, USA.
This conference program focuses on accelerating your biologic research and includes a broad spectrum of topics including protein and antibody engineering, cancer immunotherapy, oncology, and emerging therapeutics.
During the conference researchers will have an opportunity to get hands-on with:
Come by the BSI booth to see the latest releases from the PEAKS Team to learn how our software and services can move your discovery proteomics to new heights. If you would like to schedule a meeting contact us at sales@bioinfor.com.