September 24–27, 2023, Chengdu, China
CNHUPO 2023 is almost here! The theme of this conference is "Proteomic Navigator of the Human Body: The Road to Phronesis Medicine". Well-known experts and scholars in proteomics and related fields from both China and overseas will showcase their cutting-edge technologies and scientific research achievements, jointly promoting the development of proteomics in biomedicine, pharmaceuticals, and agriculture with a special focus on precision medicine. This will facilitate the goal of global collaborations and academic exchanges.
Bioinformatics Solutions Inc (BSI) has been one of the major driving forces for mass spectrometry data analysis and is already best known for the development of the software PEAKS. At BSI, we want PEAKS at the forefront of research and extend the deep learning revolution to translational proteomics, immunopeptidomics, and glycoproteomics. Our mission is to facilitate drug discovery and advance the frontier of biological research through AI-driven commercial software and professional services. As the platinum sponsor of CNHUPO 2023, we sincerely invite you stop by our booth #A1 to learn more about the latest releases of PEAKS!
PEAKS on the Exhibit Floor
Visit booth #A1
September 25: 18:30 – 20:00 (Welcome Reception)
September 26: 10:00 – 16:30
September 27: 10:00 – 16:00
International Convention & Exhibition Center,
China · Sichuan · Chengdu
PEAKS Lunch Workshop
Tuesday, September 26th, 12:30-14:00
TBD
International Convention & Exhibition Center,
China · Sichuan · Chengdu
We cordially invite you to attend our lunch workshop. We look forward to finally seeing everyone in Chengdu, China!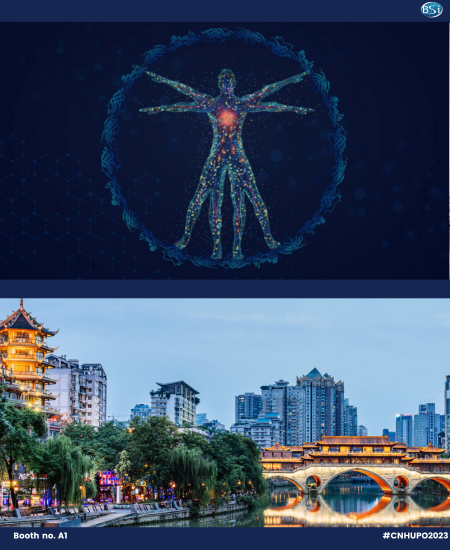 Topics
Advances in deep proteomics illuminate the dark proteome
Clinical proteomics
Glycoproteomics
Immunopeptidome
Agenda
Advanced researches in glycoproteomics
Professor Catherine C. L. Wong, PhD, Department of Medical Research Center, Peking Union Medical College Hospital (National Facility for Translational Medicine)
Plant proteomics: From molecular signaling pathway discovery to agricultural breeding applications
Research Professor Guochen Qin, PhD, Institute of Advanced Agricultural Sciences, Peking University
Deep proteome coverage study based on a series of highly efficient mirror proteases
Professor Yanchang Li, PhD, National Center for Protein Science Beijing
Registration
Scan the QR code below to fill in the registration information and submit.