After much anticipation, we are looking forward to seeing everyone in person at HUPO 2023 in South Korea! We are keen on an insightful meeting full of new proteomics research and we are proud to be releasing major updates of PEAKS.
Push new boundaries of discovery with advanced deep solutions for proteomics, peptidomics, and glycoproteomics.
Highlights
PEAKS GlycanFinder:
Comprehensive and automated N-linked and O-linked glycopeptide analysis with tandem mass spectra
Glycopeptides identification on mass spectrometry datasets with high accuracy and sensitivity
Qualitative and quantitative analysis of protein glycosylation sites
PEAKS Studio and PEAKS Online:
NEW PEAKS PTM: Optimised algorithms for a confident PTM (sequence and site)
Automated Quality Control (QC) Tool: sophisticated and systematic QC analysis for identification and quantification workflows
DeepNovo integrated into de novo sequencing workflows
New DeepNovo-DIA Peptidome (PEAKS Online Only)
Enhanced LFQ workflow for both DDA and DIA data analysis
PEAKS AB:
In-Depth Glycan Profiling
Sequence assembly of non-antibody proteins
Manual editing and finding homologous sequences
Advanced intact Mass Deconvolution Analysis
Support more instruments including Sciex ZenoTOF
PEAKS on the Exhibit Floor
Visit booth #311
September 17: 19:30 – 21:00 (Welcome Reception)
September 18: 10:00 – 16:30
September 19: 10:00 – 16:30
September 20: 10:00 – 16:00
BEXCO Convention Hall, Busan, South Korea
PEAKS Breakfast Seminar
Monday, September 18, 8:00 – 9:00 KST
Room 201 + 202
BEXCO Convention Hall, Busan, South Korea
Bioinformatics Solutions Inc. will have the sincere pleasure to welcome Dr. Hui Ye (China Pharmaceutical University) and Dr. Anthony Purcell (Monash University) as they present some of their proteomics research using PEAKS. At the end of the seminar, Applications Manager Dr. Kyle Hoffman will present PEAKS GlycanFinder, a specialised software tool for glycoproteomics.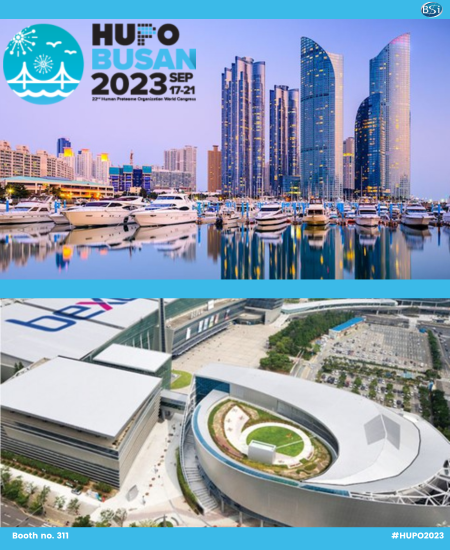 Conference Posters
PP03: Label free quantification of CD33 using PEAKS GlycanFinder reveals drastic differences in glycoform abundances from expression in HEK293 and CHO cells
Date: Tuesday, Sept 19 (viewing time 11:45 AM – 1:00 PM)
Authors: Kyle Hoffman [1], Weiping Sun [1], Xiyue Zhang [1], Ngoc Hieu Tran [1], Qianqiu Zhang [1], Lei Xin [1], Baozhen Shan [1]
[1] Bioinformatics Solutions Inc., Waterloo
PP01: A complete, deep learning-driven and quality-controlled workflow for tumor antigen (TA) discovery
Date: Monday, Sep 18, 2023 11:45 AM – 1:00 PM
Authors: Qing Zhang [1], Kyle Hoffman [1], Sahar Rabinoviz [1], Lei Xin [1],Baozhen Shan [1]
[1] Bioinformatics Solutions Inc., Waterloo