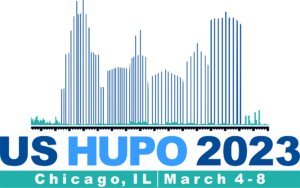 The PEAKS Team is looking forward to see everyone at the 19th annual US HUPO conference, hosted March 4–8, 2023, in Chicago, Illinois, USA with this year's theme, "Enabling Technology for Biological Discovery."
With the new release of PEAKS 11 for PEAKS Studio and PEAKS Online platforms, we are excited to showcase the latest technology and how AI-driven data analysis can take discovery proteomics to new heights. Come by booth 106 to speak with the team about our advanced PEAKS software solutions for DIA and DDA analysis. Now in our recent releases of PEAKS Studio 11 and PEAKS Online 11, we offer a unique DIA workflow to maximise the identification of peptides by integrating three PEAKS methods, spectral library search, direct database search, and de novo sequencing, incorporated deep learning in PEAKS DB and New PEAKS DeepNovo Peptidome.
In addition to our PEAKS software, come by to learn more about our proteomics and protein sequencing services.
If you are unable to attend the conference, please book a free consultation with us and we will be happy to address your group's needs.