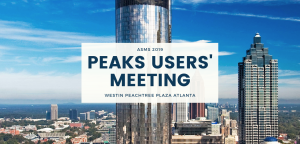 Take your research to new heights
Join us for lunch above the heart of the city in Atlanta's 73-floor skyscraper hotel at the Westin Peachtree Hotel Plaza, for our annual PEAKS User Meeting on Sunday, June 2nd from 12:00PM to 4:00PM. This year's meeting offers nothing short of Atlanta's high-class expectations, as we have the sincere pleasure to welcome Dr. Lingjun Li (University of Wisconsin-Madison), Qui Phung (Genentech, Inc.) and Dr. Josh Elias (Stanford University) as they present how PEAKS has benefitted their proteomics research.
With our latest release of PEAKS Studio X, users will find that they can get more than ever before with PEAKS now that the software supports both DDA and DIA data. The use of the de novo-assisted workflow ensures that no good scans are left unsequenced and facilitate novel discoveries for the field of life sciences. Be the first to see the upcoming enhanced version of PEAKS Studio X, which features the integration of spectral library searching to provide a quick screen of the data before performing the de novo and database searches. This development will provide an optimized workflow for the use of PEAKS in a clinical setting. To further improve PEAKS as an integral tool for clinical proteomics, users can take advantage of PEAKS Online with the use of a high-performance computer, to increase the speed of analysis for large-scale studies. Come see how PEAKS Online can offer a high-throughput solution for you data analyses and elevate the efficiency of your bioinformatics pipeline.

12:00pm – 12:30pm
Welcome & Lunch

12:30pm – 1:00pm
Enabling Large-Scale Discovery, Characterization, and Quantification of Neuropeptidomes via PEAKS-Assisted Mass Spectrometry Data Analysis Workflow
Lingjun Li, PhD, Professor, University of Wisconsin-Madison
1:00pm – 1:20pm
Spectral Library Search Workflow for Fast and Accurate Peptide Identification in PEAKS X+
Julia Hopkins, PhD, Senior Computational Biologist, Bioinformatics Solutions Inc.

1:50pm – 2:10pm
High-Throughput PEAKS Workflow for Large Scale Clinical Proteomics using PEAKS Online X
Jonathan Krieger, PhD, Senior Application Scientist, Bioinformatics Solutions Inc.

2:10pm – 2:40pm
Open Database Searching for Proteomics: Post-Translational Modification (PTM) Discovery and Beyond
Josh Elias, PhD, Associate Professor, Stanford University

2:40pm – 3:00pm
AI Advances Immunopeptidomic Analysis of DDA and DIA Mass Spectrometry Data in PEAKS X
Baozhen Shan, PhD, CEO, CSO, Bioinformatics Solutions Inc.

3:00pm – 4:00pm
Mix & Mingle at the Sun Dial Restaurant, Bar, and View, 73rd floor
Hors d'oeuvres and alcoholic drinks included
Westin Peachtree Plaza Atlanta
Registration on 6th Floor – starting at 12:00 PM
210 Peachtree St. NW
Atlanta, GA 30303